Mui Ne is a coastal town in the South East of Vietnam. Residing just roughly 198km outside of Ho Chi Minh City (5 hours via bus) this destination has become increasingly more popular in the past decade. In fact, now the 15km stretch of beach is filled with all types of resorts including the odd budget hotel for backpackers. Nowadays the town has been overrun by Russians, which is becoming a common trend for beach areas in South East Asia. However there is still a lot of good attractions in this part of the coast and is worth a visit for a few nights! The bus from Ho Chi Minh City should not cost you more than $6!
The Beach
The beaches in Mui Ne are particularly windy and not made for relaxing on, compared to other traditional beaches. The waves are huge after the morning, making the beaches perfect for wind surfing, kite surfing and general surfing. A lot of people tend to relax at their resorts pool, but if you're a backpacker you can probably sneak in for a swim without being noticed.
Fishing Village
The fishing village can be found a quick motorbike journey outside of the main tourist section. While there isn't a lot to do in the village, just taking pictures of the ocean is satisfactory enough. The sheer amount of boats is amazing, and seeing people constantly maneuvering their nets is quite interesting!
White Sand Dunes
The major tourist attraction in the Mui Ne area is of course the white sand dunes, that are furthest away from the city (around 37km) and are spectacularly beautiful! While most people will opt for a tour that can cost around $10+ a person to take you to the dunes, if you rent a motorbike you can get two people there for $8 (motorbike rent for a day $5 and $3 petrol). Although the roads are quite terrible at certain points and extremely windy, this drive should only be recommended to experienced drivers. The desert is a lot smaller than you would expect, but still picturesque. There is the option to rent ATV's (quad bikes) here, just be wary as lots of people have had a bad time renting them. They're quite old and outdated, they are not looked after well and of course driving an ATV across high sand dunes is dangerous!
Red Sand Dunes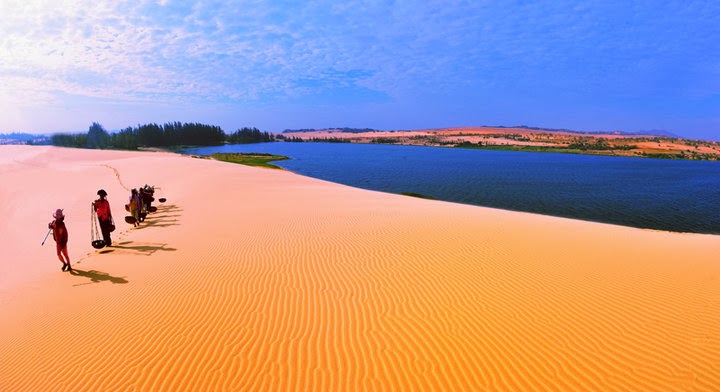 The red sand dunes are much closer to the main town (around 10km) and are the most visited. When approaching the red sand dunes you should be wary of all the Vietnamese children who will want to aid you. They will offer you a slide to use or help you with your possessions. All of these tactics are used to pickpocket you and even if they don't pickpocket you, they will request that you pay them a ridiculous amount for what seems like a friendly gesture. Do yourself a favor and just continue to tell them no thank you!
Mui Ne is an interesting place and definitely worth a visit as its so close to Saigon. While is has been overrun by Russian vacationists, there is still enough to make it worth the bumpy drive out of the capital!